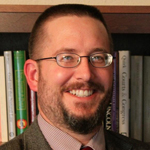 The Editors are sorry to announce the departure of our longtime colleague and friend Scott P. Richert as executive editor of Chronicles.  Mr. Richert, who holds an M.A. in political theory from the Catholic University of America, came to us in 1996 from Piety Hill, the home of Scott's late mentor Russell Kirk, in Mecosta, Michigan (Scott's native state), where he and his wife, Amy, and young family had lived and worked for a time.  Over the course of 21 years at The Rockford Institute, Mr. Richert has served as assistant editor of The Family in America, as well as assistant, managing, and executive editor of Chronicles.
For over 15 years his noted column, The Rockford Files, has appeared in Chronicles—first as a monthly Letter From Rockford.  We followed his detailed accounting of the Rockford public-school desegregation case and Winnebago County's "quick take" of a blind veteran's farm in favor of well-connected blind trusts.  At one Rockford Institute Summer School, Chronicles readers were treated to a guided tour of "Scott Richert's Rockford"!  Yet readers who never left home spent "One Moment in Time" at the late Richard Ragsdale's abortuary; learned of the sadist who owned the building, lived in it, and lewdly taunted Christians who prayed outside; and celebrated along with Scott the eventual demise of Rockford's "house of horrors," when state officials managed to do what the federal government could not.  Readers also saw "Through a Glass, Darkly," as Scott braved a day at the local mosque and Islamic elementary school shortly after September 11, and wrote honestly and humanely about the people he met.  Equally memorable have been Scott's reflective pieces on the incarnate realities of everyday life, in which he consistently drew on and added to the wisdom of his mentors Russell Kirk and John Lukacs, applying Burkean conservatism and historical consciousness to new subjects, including technology—celebrating the best he discovered in the "little platoons," the localities where life is actually lived, coram deo.
Mr. Richert has been an accomplished and well-received speaker at events hosted by The Rockford Institute, including The John Randolph Club, local lectures, the Summer Schools, and various overseas convivia.  He also served as a regular panelist on Chronicles Unbound, the magazine's weekly radio show, along with Aaron Wolf and Tom Fleming.  In addition to his indispensable contributions as an editor and contributor to Chronicles, Scott's skill with numbers, budgeting, and subscription enhancement have been enormously valuable—indeed, invaluable—to this enterprise, and his work as the director and principal editor of Chronicles Press has been superb.  As the world was turning away from print to the wonders of the internet, Mr. Richert, guided foremost by his own incarnational, traditional Catholic faith, kept Chronicles on a path of permanence, and while publication after publication abandoned print for exclusive pixelated ephemerality, only to close up shop soon thereafter, Scott's leadership not only has provided the vision and means of preserving this magazine in all formats but has, in recent years, fostered unprecedented growth.
Scott leaves us to pursue a variety of enterprises, including the fulfillment of a two-book contract with a noted publisher, his regular writing as Catholicism Expert for ThoughtCo (formerly About.com), and his work on the board of directors of the Pregnancy Care Center of Rockford.  To our great relief and good fortune, he has consented to serve as editor-at-large, and to write for Chronicles on a monthly basis, including his column, reviews, and other pieces.  Although his daily presence among us will be missed, he is not withdrawing from Chronicles' inner circle of colleagues and friends and will no doubt contribute further in the future to our related activities.  In this way his "old" colleagues will not be, effectively speaking, his former colleagues, something for which we at The Rockford Institute are profoundly grateful.
We wish Scott the best in his future life and career, while giving thanks that we can expect to follow most of it.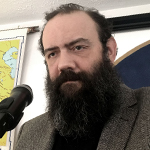 Aaron D. Wolf has been appointed executive editor of Chronicles following the departure of Scott P. Richert.  Mr. Wolf has worked at The Rockford Institute since 1999, and joined the Chronicles staff as assistant editor with the January 2001 issue ("What Is Paleoconservatism?").  He became managing editor in 2015.  In 2005, he contributed a chapter to Peace in the Promised Land: A Realist Scenario, edited by Srdja Trifkovic, and his work also appears in Chronicles of the South: Garden of the Beaux Arts, edited by Clyde N. Wilson—both volumes published by Chronicles Press.
A native of Rockford with family roots in the Arkansas Delta and the Tennessee hills, Mr. Wolf studied philosophy at Rockford College and Church history and systematic theology at Trinity Evangelical Divinity School under the late Harold O.J. Brown, for many years the director of the Center for Religion and Society at The Rockford Institute and The Howard Center, and religion editor of Chronicles.  Aaron is well-known to our readers as a general contributor to the magazine and blogger as well as the author of the monthly column, Heresies and as a popular speaker at The John Randolph Club and various other events hosted by The Rockford Institute.
A pro-life advocate, Mr. Wolf serves on the board of directors as treasurer of The Haven Network for Perinatal Death and Bereavement.  He also serves on the advisory network of the Hausvater Project, and, in 2015, he was elected to the board of directors of the Northern Illinois District of the Lutheran Church—Missouri Synod.  He is a regular guest on Issues, Etc., and has appeared on many radio programs, including Wisconsin Public Radio's Tom Clark Show, Catholic Answers Live, and Extension 720 With Milt Rosenberg (WGN); and on television programs, including an episode of Errata do biograffi on Poland's TVP1 dedicated to Chronicles' founding editor, Leopold Tyrmand.  An proponent of classical Christian education, Mr. Wolf teaches philosophy and American history for a local homeschool group.  He and his wife, Lorrie, and their six children live in Cherry Valley, Illinois.  Follow him on Twitter @frogmorton.