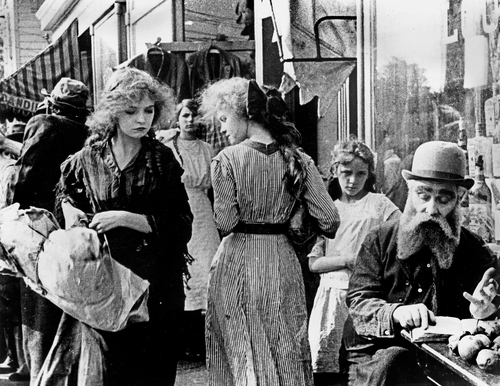 It's all very well to say, as I do, that you should see the silents because in them you will see every development in film style—except synchronized sound—freshly created and, in most cases, as artfully exploited as they ever have been. But the proof is in the viewing.
What should you see to be convinced the silents are worth seeing?
Here is a list of 79 silents. Though I think they are all artistically significant, they're also my favorites, which means that some very important films aren't among them. Birth of a Nation is a milestone, but I don't greatly like it. (Yes, I think it is offensively racist—race supremacist, to be precise, whereas its source, Thomas Dixon's pop novel about the real Ku Klux Klan, The Clansman, is race separatist and morally preferable because it is.) Several of Harold Lloyd's comedies are much liked, but his comic persona grates on me, and not even Safety Last makes my list. A performer's glamour or acting talent seldom counts that much with me, and though I believe Rudolph Valentino and Douglas Fairbanks were extraordinarily dashing, and Lon Chaney and John Barrymore were great actors, none of their films I've seen seem to me first-rate.
I list my favorites chronologically and by genre. The earliest on the whole list is a crime melodrama, so Crime movies come first. The next earliest is a social-problem drama, hence Drama, encompassing all contemporarily set non-comical scenarios, comes next. The other genres, in sequence, are Historical (aka period or costume drama), Documentary and Nonfiction, Comedy, and Fantasy and Adventure. Each film's listing includes the title in italics and, where helpful, its English translation, also in italics and bracketed, followed by the release date and director in parentheses. Entries including a slash ( / ) list two titles commonly used for the same film. The letters CF or NF after an entry refer to remarks I've written on the sites of Classicflix and Netflix, respectively, and signed "—Ray Olson". "see" after the letters prefaces the title of the rental service's DVD under which my remarks appear, if it is different from that of the film. "short" at or near the end of an entry denotes a film of less than feature length; good prints of silent shorts can quite often be seen for free on YouTube and other sites. Last in some entries is a term or phrase pointing out one great distinction of the particular entry.
The titles preceded by an asterisk (*) belong to my personal crème de la crème of the silents, movies I consider among the finest ever made, that, as I like to say, justify the invention of the medium.
Crime
The Musketeers of Pig Alley (1912, D. W. Griffith) short; First gangster film
Fantomas (1913-14, Louis Feuillade) CF; Serial
Judex (1916, Feuillade) CF; Serial
Menilmontant (1926, Dmitri Kirsanoff) NF, see Avant-Garde: Experimental; short; A "silent" silent, sans intertitles
Drama
Ingeborg Holm (1913, Victor Sjöström) NF
A Man There Was (1917, Sjöström) NF; On-location filming
The Poor Little Rich Girl (1917, Maurice Tourneur) CF; Set design
The Parson's Widow (1920, Carl Dreyer)
La roue (1923, Abel Gance) NF; Montage prefiguring Soviet editing
*Greed (1924, Erich von Stroheim)
Wild Oranges (1924, King Vidor) CF
*Visages d'enfants [Faces of Children] (1925, Jacques Feyder)
Gribiche (1926, Feyder) CF
Sunrise (1927, F. W. Murnau)
*The Docks of New York (1928, Josef von Sternberg) NF
Street Angel (1928, Frank Borzage)
White Shadows in the South Seas (1928, W. S. Van Dyke) CF
*Lucky Star (1929, Borzage)
*Old and New / The General Line (1929, Eisenstein) CF, see Landmarks of Early Soviet Film, Disc 1; The acme of Soviet montage
*City Girl (1930, Murnau) NF
*Earth (1930, Alexander Dovzhenko)
*Japanese Girls at the Harbor (1933, Hiroshi Shimizu) NF; Long lap dissolves
*Passing Fancy (1933, Yasujiro Ozu) NF
*Street without End (1934, Mikio Naruse) NF
Historical
Cabiria (1914, Giovanni Pastrone); Massive, expressive sets
*Intolerance (1916, Griffith) NF; Four intertwined plots
Die Nibelungen: Siegfried (1924, Fritz Lang) NF;
Kriemhilds Rache [Kriemhild's Revenge] (1924, Lang) NF
The Saga of Gösta Berling (1924, Mauritz Stiller) NF
*Battleship Potemkin (1925, S. M. Eisenstein)
Flesh and the Devil (1926, Clarence Brown) CF
The End of St. Petersburg (1927, Vsevolod I. Pudovkin) NF
*Die Liebe der Jeanne Ney [The Love of Jeanne Ney] (1927, G. W. Pabst) NF
*Napoleon (1927, Gance) Anticipates Cinerama, split-screen, "musical" montage, etc.
Wings (1927, William Wellman) NF; Aerial dogfight footage
Four Sons (1928, John Ford) NF  
The Man Who Laughs (1928, Paul Leni) NF
October: Ten Days That Shook the World (1928, Eisenstein)
*La passion de Jeanne d'Arc [The Passion of Joan of Arc] (1928, Dreyer) Maximally expressive close-ups
Storm over Asia (1928, Pudovkin) NF
Arsenal (1929, Dovzhenko)
Die Büchse der Pandora [Pandora's Box] (1929, G. W. Pabst) NF; Cf. Alban Berg's Lulu
Documentary and Nonfiction
*In the Land of the Head Hunters / In the Land of the War Canoes (1914, Edward S. Curtis) Kwakiutl ethnography
South (1919, Frank Hurley) NF; Shackleton's Endurance expedition
Grass (1925, Merian C. Cooper, Ernest B. Schoedsack) NF; Migrant herders of Persia
Chang (1927, Cooper, Schoedsack) NF; Jungle villagers of Thailand
The Man with the Movie Camera (1929, Dziga Vertov); Technically encyclopedic
Regen (1929, Joris Ivens) short
Salt for Svanetia (1930, Mikhail Kolatozov), CF, see Landmarks of Early Soviet Film, Disc 4; short
Comedy
Tillie's Punctured Romance (1914, Mack Sennett) CF
*Shoulder Arms (1918, Charles Chaplin) short
Why Change Your Wife? (1920, Cecil B. DeMille) NF
The Boat (1921, Buster Keaton, Edward F. Cline) short
The Kid (1921, Chaplin) NF
Le brasier ardent [The Burning Brazier] (1923, Ivan Mozzhukhin) CF
*Our Hospitality (1923, Keaton, John G. Blystone) NF
Entr'acte (1924, René Clair) short; The intermission for Erik Satie's ballet, Relâche
The Extraordinary Adventures of Mr. West in the Land of the Bolsheviks (1924, Lev Kuleshov) CF, see Landmarks of Early Soviet Film, Disc 1
*The Gold Rush (1925, Chaplin)
His Wooden Wedding (1925, Leo McCarey) short  
The General (1926, Keaton, Clyde Bruckman)
Bed and Sofa (1927, Abram Room) NF
My Best Girl (1927, Sam Taylor) NF
Three's a Crowd (1927, Harry Langdon) NF
The Cameraman (1928, Keaton, Edward Sedgwick) NF, see TCM Archives: The Buster Keaton Collection
The Chaser (1928, Langdon) NF
The Farmer's Wife (1928, Alfred Hitchcock) CF    
Steamboat Bill, Jr. (1928, Keaton, Charles Reisner)
You're Darn Tootin' (1928, Edgar Kennedy) short
*City Lights (1931, Chaplin)
*I Was Born, but . . . (1932, Ozu)
Modern Times (1936, Chaplin) Includes the most famous instance of film plagiarism
Fantasy and Adventure
After Death (1915, Evgeni Bauer) NF, see Mad Love: The Films of Evgeni Bauer; Cf. Pre-Raphaelite and symbolist painting
*Das Cabinet des Dr. Caligari (1920, Robert Wiene); Abstract set design
Der Golem, wie er in die Welt kam (1920, Paul Wegener) NF
Faust (1926, Murnau) NF
Metropolis (1927, Lang)
Un chien andalou [The Andalusian Dog] (1929, Luis Buñuel, Salvador Dalí) short;   The most surrealist film
Die weisse Hölle vom Piz Palü [The White Hell of Pitz Palu] (1929, Arnold Fanck, Pabst) NF; German "mountain film"; great skiing