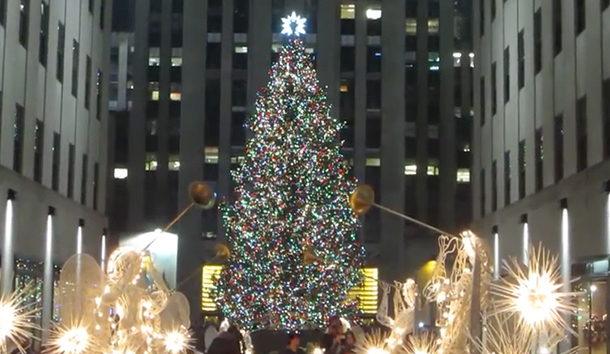 On Sunday, I got to hear a wonderful Christmas concert by the Cleveland Orchestra. Particular highlights included the three carol medleys performed by the Orchestra: Robert Wendel's "Christmas a la Valse," Malcolm Arnold's "Fantasy on Christmas Carols," and Leroy Anderson's "A Christmas Festival." There was nothing incongruous about one of the world's premier orchestras playing Christmas carols. As Paula Simons observed in 2003, "Traditional Christmas carols are beautiful songs. They combine rich, lyric poetry with melodies of timeless power. A child who grows up hearing and singing the likes of God Rest Ye, Merry Gentlemen or Silent Night . . . or the other great world classics gets a profound musical education. The intricate harmonies and modalities of real carols don't just move our hearts. They train our ears to appreciate more sophisticated musical forms and our voices to sing in concert with others."
On Monday, I got to hear my sister describe a fifth grade concert she just endured, where not one song mentioned Christmas, or even alluded to Christmas. All the songs were recent concoctions, devoid of cultural significance or artistic merit. Rather than sing "Silent Night" or even "Jingle Bells,"  the children sang "Bop Bop," "Ringing Ringing" and "The Wacky Winter Song," the latter a tuneless lament for how cold winter is. Quite a contrast from my own experience in public elementary school, where we sang Christmas carols and learned about this great holiday.
What my sister experienced was a deliberately cultivated cultural desert. As she described the concert she attended, I kept thinking about the one attended, with the beautiful sound of the Cleveland Orchestra's violins and violas playing the exquisite "Bring a Torch, Jeanette, Isabella" still fresh in my mind. And I thought back to what the conductor told us, before inviting the audience to sing along with five of the Christmas songs contained in Leroy Anderson's "A Christmas Festival:" he said the lyrics were in our programs, but he didn't believe anyone would need them. And few seemed to. But years from now, after millions of children have learned to sing "Bop Bop" rather than "Joy to the World," that will no longer be the case. Christmas leads to the heart of our culture; the War on Christmas leads nowhere.
[Image credit: screengrab from Youtube]