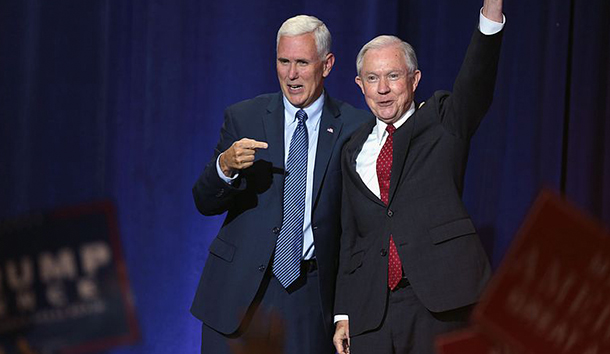 During the campaign for the presidency, the major media were relentless in their attacks on Donald Trump. Reading the Washington Post daily I couldn't believe the news coverage. It was one anti-Trump story after another. The reporters didn't even bother to disguise what clearly were opinion pieces, passing them off as news. "Racist," "sexist," "anti-Semite"—these were just some of the charges leveled against Trump during the campaign.
Yet, in spite of massive media opposition to him, and the best efforts of NeverTrump Republicans who did all they could to defeat him, Trump overcame the odds and pulled off a stunning upset to win the presidency.
In an effort to bring the country together, Donald Trump gave a conciliatory victory speech. He even said that the Clintons had suffered enough, and that he wouldn't pursue criminal charges against Hillary Clinton.
That obviously wasn't good enough for the elites who had invested so much in Hillary Clinton's election campaigns. Massive anti-Trump student protests erupted across the country, fueled by sympathetic faculty members and administrators. Early Trump choices for key positions in his Administration—in particular, Steve Bannon as Senior White House Policy Advisor and Jeff Sessions as Attorney General—set off the media, and they have launched vicious personal attacks against both men, reminiscent of what they had tried unsuccessfully to do to Donald Trump during the general election campaign.
Bannon is a Naval officer and a former Goldman Sachs investment banker with undergraduate degrees from Virginia Tech, a masters in international relations from Georgetown University, and a Harvard MBA. He has been portrayed as a "white nationalist," and an "anti-Semite" on the flimsiest of evidence.
He was elected president of the student body at Virginia Tech and called one of the smartest people in his class by his classmates at Harvard Business School (who also were quoted in a Boston Globe article as saying that they never detected any racial prejudice in him or the slightest hint of anti-Semitism). No matter: The Left doesn't let facts get in the way of a concerted effort at "character assassination." Why is the Left so obsessed with Bannon's appointment?  It is because they know that Steve Bannon is a formidable foe.  He is smart, understands what is at stake in the battle for the culture, and is determined to implement Donald Trump's plan for America. The Left instinctively knows that it cannot co-opt Bannon or dissuade him from pursuing the Trump agenda; thus, they have to force him out of the White House as soon as possible. Expect the ferocious attacks on Bannon to continue.
And then there is Jeff Sessions, Trump's nominee for Attorney General. Sessions was supportive of Trump from the beginning. He also was a major advisor to Trump on border questions and trade policy. One might say that Sessions provided the intellectual framework for Trump's winning campaign on controlling our borders and a trade policy that puts America's interests first.
The liberal hive is just as intent on blocking Sessions' confirmation as Attorney General; they understand the profound effect Sessions will have on immigration policy and the selection of federal judges. Plus, he will have the opportunity to clean up a heavily politicized Justice Department. Senator Sessions is not one to shy away from ruffling feathers by making the hard decisions that a Trump Attorney General needs to make.
So they have trotted out that old reliable charge to block his nomination: "Sessions is a racist." It worked once before, when Sessions was up for an appointment as a federal judge in the Reagan Administration—so why not use it again? Sessions' nomination narrowly failed, because Senator Arlen Specter voted with the Democrats to deny him the job. Ironically Jeff Sessions was later elected to the U.S. Senate. Thereafter Arlen Specter got to know Sessions, and he later said his vote against Sessions was a "mistake" and "remains one of my biggest regrets."
As U.S. Attorney, Sessions prosecuted the Ku Klux Klan and desegregated schools in Alabama. But don't expect that to stop the liberals from using charges of racism to try to keep him from getting the position.  They know that, as Attorney General, he will do what is right.
The more appointments that Trump makes of men and women determined to follow through on his campaign policies, the more his opponents will attack him.
Fasten your seat belts. The next four years will be a turbulent period in America.
A version of this article was previously published at The Quorum Report.
[Image credit: By Gage Skidmore from Peoria, AZ, United States of America (Mike Pence & Jeff Sessions)]