On Monday night, I had the good fortune to attend the Republican National Convention in Cleveland, thanks to the generosity of a friend who gave me a guest pass.  There has been much media-generated doom and gloom about this convention, but the negative expectations generated by a hostile press were not confirmed by what I saw.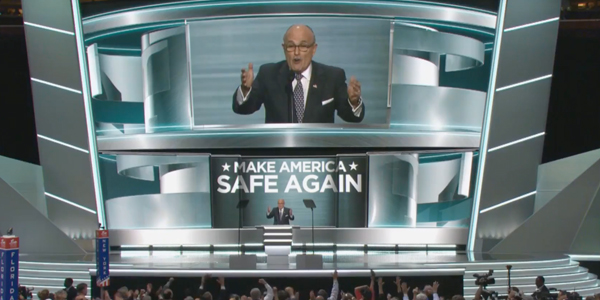 There has, of course, been much worry about the possibility of violent protests, with some commentators even predicting a replay of what happened in Chicago in '68.  (We already should have known that if there were violence, it would likely come from the outside, since Cleveland just saw thousands take to the streets after the Cavs won the NBA championship and hundreds of thousands throng downtown for the victory parade, all without any major disturbance). I saw some oddballs walking around, including one carrying a sign proclaiming that the Pope is the Antichrist, but no violence or even heated argument.  As I left the convention, I chatted with several policemen and state troopers, all of whom said that Monday, at least, had passed without incident.
And what I saw inside the convention hall was lively and, on the whole, effective.  The evening featured a number of ordinary Americans take to the stage to explain how they had been betrayed by their government.  We heard from veterans of Benghazi who had been left to die, the siblings of a Border Patrol agent killed defending a border our elites want to erase, and the relatives of Americans killed by illegal aliens who had been allowed not only to enter America but to remain, even after committing crime after crime.  Particularly effective was Jamiel Shaw, whose son's murder attracted the interest of LA politicians, until those politicians discovered the killer was an illegal alien, after which they wanted nothing to do with Shaw.  Most Americans believe that being an American should count for something.  Too often, though, our elites place the interests of foreigners ahead of Americans, as the stories told by these ordinary Americans made clear.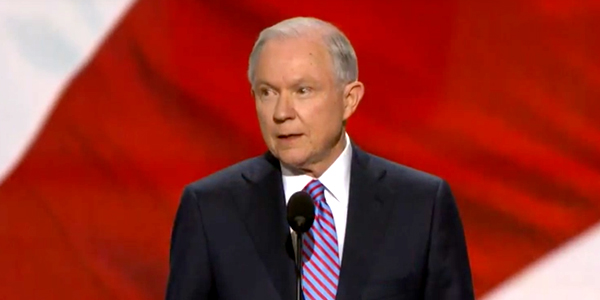 The intellectual highlight of the evening was the speech by Jeff Sessions, the courageous senator from Alabama, who made a clear and logical argument for putting America and Americans first in trade and immigration.  But I expected Sessions to do well.  The surprise for me was the very effective speech of Rudy Giuliani, whom I have criticized in print.  Giuliani knows what a difference effective policing can make in helping great cities spring back to life, and he spoke with passion in his defense of America's police from the current wave of slander.  And he also used all his skill as a prosecutor to make the case both for Donald Trump and against Hillary Clinton.
The emotional highlight, though, was the dramatic appearance of Donald Trump and the speech of his wife, Melania.  Trump's appearance was a reminder of his great skill in communicating with Americans.  Not with the Americans we might wish existed in an idealized America, but with the Americans who live in the America that actually exists.  Without this skill, Trump would not be the Republican nominee.  But many still do not want to acknowledge this skill, because they don't want to admit that their vision of America is divorced from reality.  As for Melania, she was utterly charming.  After such a winsome speech, it's no wonder that a media that hates Melania's husband is now obsessing over whether Melania's speechwriter may have used some of the same cliches as Michelle Obama's.
Of course, there were some duds.  Michael Flynn sounded like a Neocon Random Word Generator, talking for what seemed like hours about "American exceptionalism" and a host of other neoconservative banalities.  But if Trump loses in November, it won't be because of anything that happened on Monday at the convention.