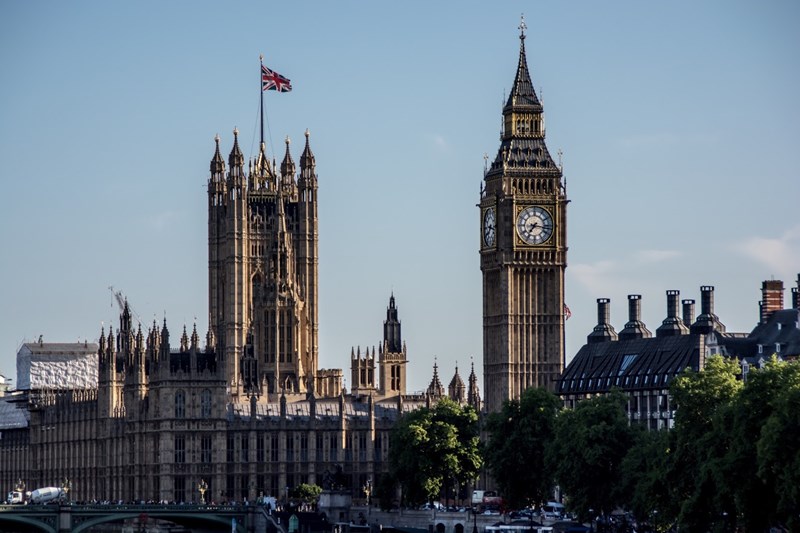 Last Thursday the Conservative Party suffered a major blow in the general election in the United Kingdom, the third such race in as many years. It had not been due until May 2020, but Prime Minister Theresa May decided to call a snap election on April 19 and obtain a "stronger mandate." At that time the governing party seemed likely to increase its slim majority of 5 in the 650-strong House of Commons, and most observers predicted a resounding Tory victory. The Labour Party was considered vulnerable primarily because it was led by Jeremy Corbyn, a tax-and-spend hard-left veteran.
Contrary to the polls, which until the eve of the election gave the governing party a lead of 8 to 12 percentage points over Labour, in the end the gap proved to be much narrower: 43% to 40%. In the greatest electoral upset in recent times the Tories have lost their majority in the House of Commons, dropping from 331 seats to 318. This was the second political gamble by a British prime minister in just two years that went badly wrong, on par with David Cameron's 2016 referendum on EU membership. May's declared objective of unifying the country behind "strong and stable leadership" is no longer attainable.
THREE CAUSES OF MAY'S FAILURE—First, the Conservatives conducted a poor campaign, "the worst since the Napoleonic Wars." She refused to take part in TV debates, and presided over the drafting of a singularly unattractive election manifesto that put off many voters—"a total disaster [which] must go down now as one of the worst in history by a governing party," according to former Conservative Treasury minister George Osborne. May's credibility suffered a hit when she was compelled to perform a mid-campaign reversal over elderly care costs, a plan derided as a "dementia tax."
Second, Britain's under-25s have voted in unusually high numbers and most of their votes went to Labour. The figures are remarkable. In 2010, they broke just one point in favor of Labour, while over-65s favored the Tories by 13 points. But in 2017 young voters backed Labour over the Conservatives by a whopping 51 points above the national average. In addition, the Labour Party fared similarly among different demographics. According to the Financial Times, "this lack of a pattern to their gains along clear political or demographic dividing lines may be the clearest sign yet of a 'Corbyn factor,' whereby people of all stripes simply became more likely to vote Labour as the campaign wore on, won over by a campaign and leader that seemed to be gaining momentum while their opponents stumbled."
Third, the vagaries of a volatile electorate have not helped the Conservatives. The precipitous decline of the Scottish nationalists' vote directly and significantly benefited Labour north of the border. The simultaneous collapse of UK Independence Party did not yield commensurate benefits to the Tories in England and Wales, although most voters who supported Nigel Farrage's candidates in 2015 are now back in the Conservative fold (57 percent). There is some silver lining for the Tories in the fact that working-class voters increasingly vote on the basis of socially conservative rather than economically liberal positions. If the Conservatives manage to become true to their party's name on various "rights," on the liberal holy trinity of race, gender and sexuality, and on immigration, they could become as naturally attractive to the British working class in the years ahead as Ronald Reagan's GOP had become to mainly Southern blue collar whites four decades ago.
THE NORTHERN IRISH FACTOR—The Conservatives will now have to rely on the Democratic Unionist Party (DUP) in order to stay in power. It is the leading political force among Northern Irish Protestants, founded by the late Rev. Ian Paisley at the height of "the Troubles" in the 1970's. The DUP will not enter a formal coalition with the Conservatives, but its contingent of ten MPs will support the government through a non-binding "confidence and supply" arrangement and thus provide it with the uncomfortably small majority of three. In return the Conservatives are certain to reiterate their commitment to Northern Ireland remaining part of the United Kingdom in perpetuity, and additional funds are likely to be secured for infrastructure improvement projects in the Six Counties.
It remains to be seen if the DUP will exert its influence in some other areas, as it is the most socially and culturally conservative force in British parliament. It opposes same-sex marriage and abortion. "I could not care less what people get up to in terms of their sexuality, that's not a matter for me," DUP leader and Northern Ireland's First Minister Arlene Foster said in 2016. "When it becomes a matter for me is when people try to redefine marriage." In 2015, Jim Wells, then DUP's health minister for Northern Ireland, said that the gay lobby is insatiable: "they don't know when enough is enough." 
The party's leaders are unenthusiastic on immigration and multiculturalism. "I would not trust them if they are devoted to Sharia Law," Peter Robinson, DUP's former First Minister for Northern Ireland said of the Muslims in 2014. He was speaking in support of a pastor who had said in a sermon that "Islam is satanic, a doctrine spawned in hell." Speaking in the House of Commons in 2008 his wife Iris Robinson declared that "the word of God says that procreation is through a man and a woman" and bewailed the fact that "we are moving mountains to facilitate immorality and to bring the rights of lesbians above all others in this country." All in all, pretty sound people—certainly much sounder than the New Tories in David Cameron's mould.
For all its socially and culturally conservative views, the DUP is not as resolutely anti-EU as might be expected. In particular it does not favor a "hard Brexit" which would reintroduce a fully-fledged "hard border" between Northern Ireland and the Republic. For an already weakened Prime Minister, this may well mean far greater readiness to seek compromise in negotiations with Brussels than would have been the case had the Conservatives succeeded in securing a clear mandate.
MRS. MAY'S UNCERTAIN FUTURE—Prime Minister May now looks vulnerable to an internal party plot to replace her. That will not happen immediately for two reasons. First of all, the Conservative establishment has not agreed on an alternative candidate, and foreign secretary Boris Johnson—the likely lead contender—is unwilling to launch his bid right now. On Monday he wrote that Theresa May deserved the backing of the Conservative Party, and stressed there was no appetite among the public for a leadership contest which could plunge the party into a fresh general election. Secondly, a palace coup would additionally weaken Britain's position when formal Brexit negotiations commence on June 19.
It is nevertheless an even bet that, some time before the end of this year, the "men in grey suits"—party stalwarts from the shadows—will come to tell May that her days are numbered, just as they came in 1990 to tell Margaret Thatcher that she would have to go. In the meantime it looks like she will remain in office, but not in power. She had to fire two of her closest advisors last Saturday, and to bring people she dislikes (notably Michael Gove) into the modestly reshuffled cabinet. Theresa May is not yet a dead woman walking, but she does look like a lame duck.
British political scene is in a state of chronic crisis. The Kingdom is more divided than ever, by political, social and cultural preferences no less than by class and income. The Labour has drifted very far left under Corbyn, in the direction of outright socialism, and his position is now very strong. In the meantime the Conservatives are adrift, lacking a clear message and a strong leader. Two-party politics has returned to Britain with a vengeance. This will not necessarily result in greater stability or produce more attractive choices.