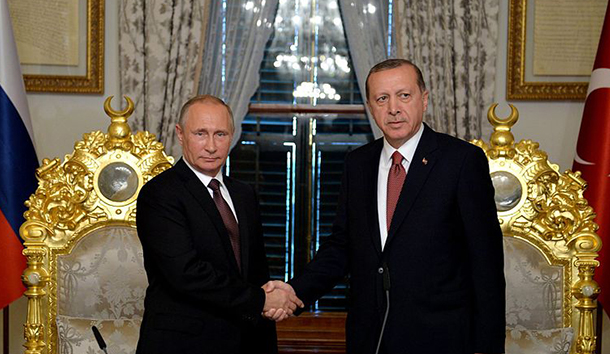 On November 29 Turkey's president Recep Tayyip Erdogan raised many eyebrows when he declared that Turkey's military involvement in Syria, which started in the last week of August, had the objective "to end the rule of the tyrant al-Assad who terrorizes with state terror." He even added that Turkey did not intervene there "for any other reason."
Only two days later Erdogan completely reversed his position. Speaking in Ankara on December 1, he said that Turkey's military operation in Syria was not directed "against any country or person," but only against terror organizations. "No one should doubt this issue that we have uttered over and over," he went on, "and no one should comment on it in another fashion, or try to misrepresent its meaning."
Both statements were made with emphatic clarity. They were remarkably contradictory even for a politician well known for unpredictable moves. One possible explanation for Erdogan's volte-face is the pressure from Moscow, which has been supporting Bashar with air operations since September 2015. The issue was reportedly raised in Erdogan's telephone conversation with Russia's president Vladimir Putin on November 30, and at the meeting of the two countries' foreign ministers in the Turkish coastal resort town of Alanya on the same day.
In view of his strained relations with Washington and Brussels in the aftermath of last July's coup attempt, and the ensuing radical purge of real, potential, or imagined enemies, Erdogan is keen to maintain his rapprochement with Russia. He initiated it last July, after an eight-month freeze that followed the shooting down of a Russian bomber by Turkish F-16s over northern Syria just over a year ago. In addition to the political imperative of broadening his diplomatic options, Erdogan is keen to avoid further losses to the Turkish economy—amounting to tens of billions of dollars—which had resulted from the cancellation of Russian trade, construction, and package tour contracts.
As it happens, neither stated reason for Turkey's intervention in Syria is true. Erdogan's real motive in launching "Operation Euphrates Shield" was to prevent the establishment of a Kurdish de facto statelet along Syria's border with Turkey, and specifically to push back its strategically significant foothold west of the Euphrates River. This zone included the city of Manbij, which the Kurds had taken after heavy fighting against the Islamic State earlier last summer. The Obama administration went out of its way to prevent any further clashes between the Turkish army and the YPG (People's Protection Units, the Syrian Kurdish militia), earning neither side's gratitude but initially managing to keep them apart. An uneasy truce had prevailed between them until recently, allowing the Kurds to focus on battling the IS while the Turks were sitting tight in their limited, 2000 square mile occupation zone. Tensions have resurfaced recently, however, with Turkey and its local allies (a few hundred members of the misnamed "Free Syrian Army") seeking to establish control over the disputed city of al-Bab.
Erdogan's motives in making two contradictory statements in three days, neither of which reflected his true motives for intervention, are coplex. His initial anti-Assad outburst may have been prompted by his neo-Ottoman regional ambitions in general, and specifically by the desire to present himself as a key champion of the Sunni Muslim geopolitical cause in the disputed "fertile crescent" between Iran and the sea. The venue for his November 29 diatribe was the "Inter-Parliamentary Jerusalem Platform Symposium," a propaganda forum which Erdogan also used to declare that "it is the common duty of all Muslims to embrace the Palestinian cause and protect Jerusalem," and that safeguarding the Al-Aqsa Mosque should not be left to "children armed with nothing but stones."
Erdogan's subsequent backtracking was primarily motivated by the pressure of his precarious international position, which makes it imperative to maintain workable relations with Moscow. Bashar al-Assad is winning the civil war, there is nothing that Turkey can do to affect that outcome, and the incoming Trump administration will have zero interest in further regime-change operations. Erdogan may have been carried away by his own rhetoric before an audience of fellow Islamists, but he knows that he cannot even pretend to oppose the Kurds, the Islamic State, and the Russian-supported government in Damascus all at once.
More powerful than ever at home, Erdogan has lost his sureness of touch on the world stage. His shifting rationale on Syria smacks of ad-hoc improvisation. His apparent lack of coherence and strategic clarity bodes ill for his reliability in the settlement of Syria's ongoing tragedy. It is to be hoped that some time next spring presidents Trump and Putin will devise a common formula for peace in Syria. That formula can and should be based on the fundamental commonality of American and Russian interests in the region, above all on the need to destroy or neutralize the forces of jihad of all color and hue. Excluding Erdogan from the discussion table, and then jointly telling him what will happen and what he needs to do, is a prerequisite for its success.
[Image credit: kremlin.ru]