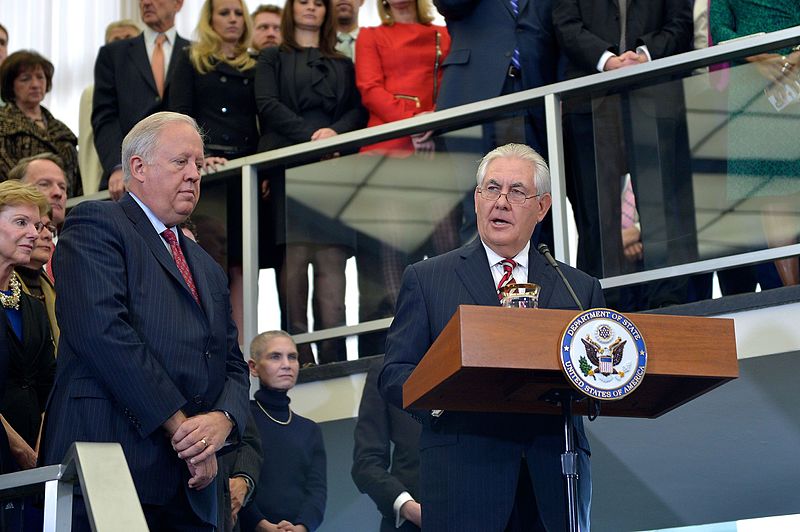 State Department Foreign Service Officers are an elite group. Well-educated, fluent in foreign languages, knowledgeable of foreign cultures, they help inform U.S. foreign policy and carry out its day-to-day implementation. Entry into the Foreign Service is highly competitive. Annually, over 20,000 hopefuls take the Foreign Service exam: in recent years the State Department has hired about 300. Foreign Service Officers gave a cordial welcome to Secretary Rex Tillerson, a chief executive with the skills to be an outstanding Secretary of State. 
However, unless additional Trump appointees arrive soon to support the Secretary, aligning some elements within the Foreign Service with new the Administration's agenda will pose a challenge. As of late February 2017, the Administration had not sent to the Senate any nominations for the Deputy Secretary, Under Secretary or Assistant Secretary jobs at State. Secretary Tillerson will need a full team. For eight years, the Foreign Service has pushed Obama's leftist priorities. Obama's legacy at State includes a residue of toxic partisanship that has already lashed out against the Trump Administration.  
On January 29, a blatantly political State Department "Dissent Channel" memo voiced opposition to the President President's January 27 Executive Order on immigration. One thousand Foreign Service Officers appended their signatures. Although advertised as a response to the President's policy announcement, the draft dissent memo had circulated prior to the Executive Order's release. Heavily-publicized, it repeated Democratic Party talking points and included the obtuse assertion that a "small number of terror attacks on U.S. soil have been committed by foreign nationals who recently entered the United States on an immigrant or non-immigrant visa." The same statement could have been made on the morning of September 11, 2001, as Islamic terrorists holding Department of State-issued visas boarded their flights.  
The memo also constituted an abuse of State's "dissent channel." Department of State regulations state, "It is a serious policy channel reserved only for consideration of responsible dissenting and alternative views on substantive foreign policy issues that cannot be communicated in a full and timely manner through regular operating channels or procedures." The regulation also states that "Employees and their supervisors should make every effort to use front channel communication to accommodate and/or report differing views on major foreign policy issues, prior to resorting to the Dissent Channel." But regular operating channels, through which Embassies report substantive issues to Washington, while facilitating "full and timely" communications, do not provide a mechanism for political stunts. The Department's Policy Planning Staff (S/P), responsible for management of the Dissent Channel, and still staffed by Obama-era holdovers, allowed this abuse to proceed.
In the absence of a Trump appointee, State's career Acting Spokesman insisted that the dissent channel allows State employees to express divergent policy views "privately to senior leadership." But this "advice" was deliberately public. And as the White House works to shape a new executive order on immigration the same "dissenting" hands are busy drafting another very public dissent.
During the 2016 election, 75 of the Foreign Service's most well known retirees entered partisan politics with a letter describing Donald Trump as "entirely unqualified to serve as President and Commander-in-Chief." Five influential retired Foreign Service Officers, all former U.S. ambassadors to Israel, are now publicly opposing the President's nomination of a successful private citizen as his Ambassador to Israel. The retirees have asked the U.S. Senate to reject the President's nominee because he has the nerve to disagree with a policy they support. As in their 2016 attack on Donald Trump, they thunder that the nominee is "unqualified."
The Ambassadors know better. Every U.S. Ambassador overseas serves as the President's personal representative and serves the President agenda, not that of prior Administrations. At U.S. Missions in countries as critical as Israel, it is important that the President name as Ambassador someone in whom he has personal confidence. President Trump has nominated such a person to serve as his Ambassador to Israel. In many instances, a private citizen Ambassador whose call will be put through to the President can be just as effective as the most seasoned professional diplomat.  But the same Foreign Service "establishment" that disdains our President, is also taking shots at his nominee. The Senate can expect more such gratuitous advice as President Trump makes additional nominations. And, while eager to enter the partisan fray now, these former Ambassadors did not feel the need to rebuke Secretary Clinton over her repeated violations of the Espionage Act. One of the Ambassadors even participated personally in the cover-up of Mrs. Clinton's lamentable role in the Benghazi tragedy, in which another Ambassador perished. 
With dissenting voices clamoring from both the middle and the senior ranks of the Foreign Service, the Trump Administration needs to move quickly to support Secretary Tillerson with Trump appointees in positions in State's regional and functional bureaus. They are urgently needed to help guide professional, non-partisan Foreign Service Officers in furtherance of the Administration's policy and to dispel the Obama legacy of left-wing partisanship.
With Secretary Tillerson's able leadership, the Trump Administration can both have an effective foreign policy and make a lasting positive impact on the State's bureaucracy. And there is an urgent national security and immigration issue on which significant progress could be made in the coming months, consistent with one of President Trump's primary security goals.
Some sources estimate that as many as 45 percent of the estimated 11 million or more illegal aliens in the United States entered the United States with visas issued by Foreign Service Consular Officers at U.S. Embassies or Consulates. Consular officers are required by Immigration and Nationality Act (INA) section 214(b) not to issue visitor's visas to applicants if the applicants cannot overcome the presumption that they actually intend to stay permanently in the United States."
Consular Officers do refuse many visas on this basis. During FY 2015, the State Department issued 7,199,807 B1/B2 visitor visas, while denying 2,197,433 such applications. But President Obama's Secretary of Homeland Security reported that, in 2015 alone, over 400,000 such "visitors" never left the United States. Other visa categories, including for students and for exchange visitors also have significant levels of visa overstays. Manifestly, foreigners fool Consular Officers too often. As in 2001, the Department of State continues to fail in this national security responsibility.
Insisting that Consular Officers refuse visitor visas unless presented with compelling proof of a visitor's intention to return home must be a high priority. Visa issuance should be more restricted for applicants from countries whose citizens total overstay rate exceeds 5 percent of visitors. Additionally, the State Department must hold accountable Consular Officers and supervisors responsible for excessive issuance of visitors visas to persons who remain in the United States.
No longer tasked with helping Obama weaken America, disappoint our Allies, and help our enemies, Foreign Service Officers can play a pivotal role in helping make America great again. But the State Department will need a strong team of presidential appointees to overcome the legacy of the Obama years, to guide the Foreign Service, and to achieve President Trump's foreign policy goals.
Timothy G. Ryan is a retired Foreign Service Officer (1989-2015). He served in the Reagan administration and was National Finance Director of President Reagan's 1984 reelection campaign.
[Image: By U.S. Department of State from United States [Public domain]]