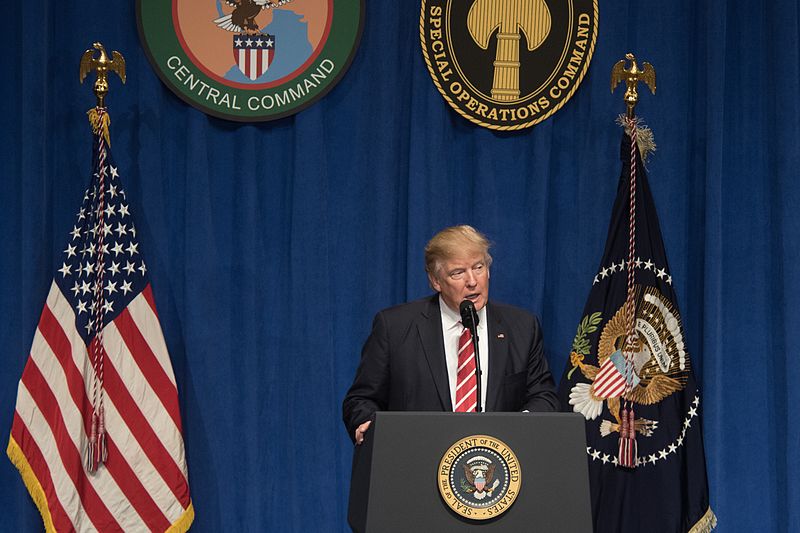 At the security conference in Munich over the weekend and at the EU headquarters in Brussels on Monday, VP Mike Pence offered profuse assurances to the European elite class that the Trump administration supports unity and cohesion in the face of various threats allegedly facing the Western alliance. His remarks amounted to an explicit repudiation of Trump's campaign statements and promises.
"The United States strongly supports NATO and will not waver in our commitment to our transatlantic alliance," Pence said, in contrast to Trump's repeated (and reasonable) remarks before the election that NATO was "obsolete." In a conference dominated by the narrative of the "Russian threat," hacks and other fake news (Sen. Lindsey Graham warned France and Germany that the Russians were coming after them, vowing to "kick Russia in the ass in Congress"), Pence did not sound a single discordant note. He paid tribute to "our shared values," our "noble ideals—freedom, democracy, justice and the rule of law." "As you keep faith with us," he went on, "under President Trump we will always keep faith with you."
Defense Secretary James Mattis—who also attended the Munich conference—made similar points in a speech last Saturday—points which until recently would have been considered distinctly un-Trumpian. President Trump has "thrown his full support behind NATO," Mattis declared, and warned of threats "on multiple fronts as the arc of instability builds on NATO's periphery and beyond." Earlier last week Secretary of State Rex Tillerson went to Germany for the Group of 20 foreign ministers' meeting. According to The Washington Post, as he left the meeting  "there was a palpable sense of relief" among the Europeans, which "stemmed in part from a sense that Tillerson is a serious man who came to Bonn willing to hear their viewpoints." According to the Post, after Tillerson's meeting with Russian's FM Lavrov,
Diplomats said they got the sense that there would be no radical shift in the U.S. stance toward Russia . . . One diplomat, speaking on the condition of anonymity, said the participants were encouraged when Tillerson said the administration believes that before it can consider any lifting sanctions against Russia, Moscow must meet its commitments to help end the fighting in the Russian-speaking, separatist region of eastern Ukraine.
After Munich Pence went to Brussels, where on Monday he said that it was his privilege "on behalf of President Trump to express the strong commitment of the United States to continued cooperation and partnership with the European Union." He pledged the U.S. would keep working with the EU to protect eastern EU states from Russia's supposed designs. He reiterated the pledge he made in Munich that the Trump administration would "continue to hold Russia accountable" for the violence in eastern Ukraine.
"Pence is looking like an adult," commented James Jeffrey, Obama's ambassador to Iraq and a distinguished fellow at the Washington Institute for Near East Policy. "The question is will Trump listen to him?" The same question was repeated by several European commentators worried about "Trump's next tweet." But in the aftermath of national security adviser Michael T. Flynn's demolition by the Deep State operatives—a sordid affair in which Pence played a significant, albeit not yet fully known role—this is the wrong question. The real question is whether Trump can resist the straitjacket which the Russophobic, NATO-for-ever "foreign policy community" has been hewing for him ever since last November 8.
The answer is "probably not," and the clue is provided by the appointment of Lt. Gen. H.R. McMaster as Flynn's replacement. In contrast to his predecessor, McMaster sees Russia as an adversary and seems to reject the possibility of partnership. Last May, at the Center for Strategic and International Studies, he pointed out Russia's annexation of Crimea and support for "rebels" in eastern Ukraine as evidence of Moscow's broader effort "to collapse the post-World War Two, certainly the post-Cold War, security, economic, and political order in Europe and replace that order with something that is more sympathetic to Russian interests."
McMaster's views are diametrically opposed to Trump's previously stated objectives, and the Duopoly was delighted. "The selection encouraged Republicans who admire General McMaster and waged a behind-the-scenes campaign to persuade Mr. Trump to select him," noted the New York Times, adding that a coterie of national security conservatives, "including a top aide to Senator John McCain of Arizona, also lobbied for him, and Defense Secretary Jim Mattis, who has worked with General McMaster, encouraged him to take the job." McCain himself praised McMaster in a tweet as "outstanding choice for nat'l security advisor—man of genuine intellect, character & ability."
These words of praise for Trump's choice came from the man who also went to Munich last week, to deliver what one analyst calls "a calculated, planned attack on Trump's entire system of beliefs." As the Washington Times editorialized last Monday, it was "without modern precedent, and it was out of bounds." McCain's description of the president, to a conference where nobody could miss the point of his remarks, was very close to a declaration of war on Trump, and the fact that he made the remarks on foreign soil is particularly offensive: "The senator apparently accepts the Democratic line that Mr. Trump resides today at 1600 Pennsylvania Avenue only because Vladimir Putin successfully manipulated American public opinion and thereby influenced the election in the 50 separate American states. He vows to open an investigation of the extent to which Mr. Trump's clear and open wish to ease tensions with Moscow could be payback for the help in taking down Hillary Clinton in November."
A war it is, and Trump cannot win it by making key appointments which are pleasing to McCain and his ilk. If Trump gives up on improving relations with Russia, he will have missed a historic opportunity—perhaps the last – to end once for all the European civil war that erupted in 1914, continued in 1939, and resulted in the frozen conflict called the Cold War. As I wrote in these pages six weeks ago, and elsewhere many times over the years, we need a pan-European entente that embraces the whole of the Northern Hemisphere, from Vancouver to Vladivostok; and Trump seems to understand that we all face "existential demographic and ideological threats—Asiatic and African in origin, Islamic in spirit – in the decades ahead."
It now appears that this was not the case. Trump has caved in to the Russophobes, and this can only encourage the perpetrators of the ongoing soft ("seed crystal") coup d'etat to be relentless. Steve Bannon is next on their list, but the final prize is clearly Trump himself—impeached, or humiliatingly tamed, or dead.