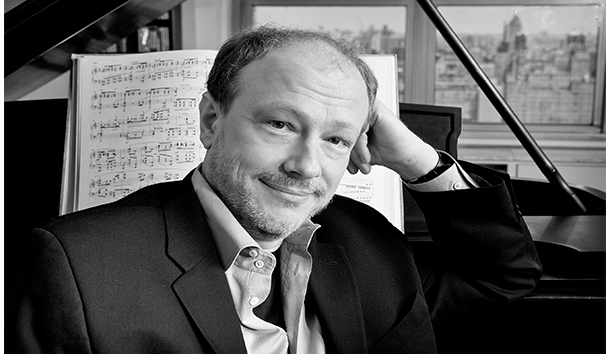 The first thing to say about the Romantic Revival is that the phrase itself is a bit ambiguous, though I haven't meant to be misleading.  Romanticism originally had an aspect of revival of the medieval, as in the Gothic revival and the revival of medieval romance.  And the phrase could also denote the return to tonal composition in contemporary times.  I haven't meant any such nebulousness, but rather something more specific—the revival in the 1960's and since of neglected romantic repertory and even performance practices.  But before we address that topic, there are still some contradictions to be posted.
Back in the 1960's, there were different paths back to the Romantic world.  Presenting neglected (or forgotten or unknown or even scorned) repertory was not the only configuration of the revival, for many reasons.  In the first place, there were those who could not go back to Romanticism, because they had never left it.  Vladimir Horowitz claimed that position, though he had to forget his own young days and anti-Romantic performances to do it.  Earl Wild claimed that position with much truth.  When Erich Leinsdorf called him up to propose a revival of the forgotten Piano Concerto No. 1 in B-flat minor, Op. 32 by Xaver Scharwenka (1850-1924), dedicated to Liszt and premiered in 1875, Wild responded that he had been waiting for that call for 40 years.  In his youth, he had learned the piece from a teacher, Selmar Janson, who was a pupil of Scharwenka himself.  Wild knew many pieces that were on the Liszt to be scorned, and he played them superbly well.  His version of the Romantic Revival was simply his own Romantic Resumption.
Raymond Lewenthal was also a formidable pianist who did much to personify the Romantic Revival, dressing in an outmoded, even outrageous manner, researching and writing, lecturing and performing.  I think that Lewenthal did much to pull off the greatest coup of the Romantic Revival, which was to advocate and even force the rewriting of music history in the case of Charles-Valentin Alkan (1813-88).  The music of Alkan doesn't sound obviously Romantic, but it is the work of a major composer in the Romantic Age—an obscure eccentric, yes, but also a genius with a unique sound and method.  The first movement alone of his Concerto for Solo Piano is longer than Liszt's Sonata in B minor!  The set of variations called Le Festin d'Ésope (Op. 39, No. 12) is comparable to Beethoven's 32 Variations in C minor—indeed, if anything is better than the piece to which Beethoven denied an opus number, it is the Alkan Feast of Aesop.
Raymond Lewenthal (1923-88) wasn't alone or even first in resurrecting Alkan from his obscurity—the late Ronald Smith of England (1922-2004) was involved in that project also, first recording the Concerto for Solo Piano and later writing a two-volume biography of Alkan.  Raymond Lewenthal never completed his own biography of Alkan, probably because of failing health.  When I saw and heard Raymond Lewenthal carrying on back in the 1960's, dressed as an image out of the 19th century with a long coat, he was speaking to the "American Berlioz Society," which seemed to be a small collection of youthful music buffs.  I don't think that it is any exaggeration to say that Lewenthal bragged and even preened (not without justification) as he talked about playing Kalkbrenner at some festival—Alkan's name did not come up that day, but Liszt's did.  Nor did the name of Adolf von Henselt come up, and that is certainly a name which Lewenthal could have underlined if he had wished to.  He himself had resurrected Henselt's Piano Concerto in F minor, Op. 16, a most challenging work, the world premiere of which had been played by Clara Wieck Schumann in 1845, and which was the piece with which Ferruccio Busoni made his debut in America.  Lewenthal deserved much credit for that, not only in the obscurity of the challenge, but also because the Henselt concerto may be the best thing of its kind between the piano concerti of Beethoven and Brahms.  This was a Romantic Revival, indeed!
The Romantic Revival took many forms and had multiple causes and results.  I have been emphasizing the pianistic aspects, but there were other prismatic categories and instruments of delivery though which to hear and to classify.  So we could mention, somewhat separated from the pianistic sphere, the world of the violin, the symphonic world, the operatic world, and even the realm of chamber music.  Some of these cases saw an expansion of possibility, a renewal of the claims of virtuosity, and an enrichment of the repertory.
Aaron Rosand is one violinist we can surely identify as an agent of the Romantic Revival.  His huge repertory included such material as the Joachim concerto, Op. 11; the Hubay concerto, Op. 99; the H.W. Ernst Concerto Pathétique, Op. 23, and Godard's Concerto romantique, Op. 35—and all of this was played with panache.  Rosand played everything it seems, and his contribution to the sense of recovery and rediscovery was imposing and needed.
But of course another violinist who comes to mind is Ruggiero Ricci, or "Scree chy Ricci," as a prominent violinist and pedagogue has often referred to him.  There was a time when Ricci was virtually alone in espousing the repudiated repertoire that comes down to us from Paganini and Ernst.  His recording and advocacy of Bottesini's Gran Duo Concertante was an event that changed the sense of possibilities—what we call the Gran Duo today (for violin and double bass) is not what Bottesini wrote (for two bass fiddles).  Ricci's 1947 recording of Paganini's Caprices, Op. 1 (probably the greatest opus one in music history) remains a uniquely aggressive account, one that more than any other gets the truculent, take-no-prisoners attitude right.  Zino Francescatti's account of Paganini, as in his recording of an all-Paganini recital at the Library of Congress in 1954, is also indispensable, but in a different, elegant way.
There were other forms of the presentation of forgotten music besides the advocacy of strong-willed individuals.  Frank Cooper's Festival of Neglected Romantic Music as assembled from 1968 to 1978 at Butler University in Indianapolis was itself both a broad academic project and the espousal of a strong-willed individual—Frank Cooper himself.  As a formidable performer, he also recorded piano concertos by Ignaz Brüll, Alexander Dreyschock, and Joachim Raff, among other acts of Romantic Revival.  In his case there was no conflict among the academic, the promoter, and the performer.  In later days, Frank Cooper has moved on to other fields of endeavor.
Another field for Romantic Revival was opera.  The revival of bel canto, the exploration of the early works of Verdi, and the charisma of great singers and conductors are not confined to the world of opera alone, because as in the 19th century itself, opera and the larger musical envelope reflected each other in many ways.  The slow movement of Paganini's first violin concerto is obviously an operatic scena, without the obvious singer.  Or, to put it another way, I once heard Beverly Sills complain self-mockingly, as she followed Jorge Bolet on stage, "That Bolet guy is stealing all my stuff!"—referring to Liszt's Reminiscences of Lucia di Lammermoor, among others.  She had a point in her time, but also one in the century before.  But the point is that the larger musical presences in the 19th century had to be reflected in the necessary revival, and they were and they are.
The broadening of Anton Bruckner's repute and the establishment of Mahler in the repertory is related to the Romantic Revival as well, though these stories are so big that they seem to eclipse the lesser musical comets and asteroids.  There would be other accounts to be rendered, symphonically.  We might think of Franz Berwald or Joachim Raff, or even of such homegrowns as Paine, Chadwick, and MacDowell.  Was even the young Van Cliburn a Romantic Revivalist?  What he played and recorded, at least as far as MacDowell is concerned, says yes.  Was Leonard Bernstein a revivalist when he performed and recorded Goldmark's "Ländliche Hochzeit" or "Rustic Wedding" Symphony in E flat major, Op. 26?  I say he was—but that Brahms was not when he praised it at the get-go in 1875, nor was Theodore Thomas, conducting the antecedent of Bernstein's orchestra in 1877.  When Bernstein got to it at long last, Goldmark's symphony, which was really a suite, produced delightful results.
So yes, the Romantic Revival had many aspects, and one of them was in the larger and subsequent field of recordings.  To represent the larger phenomenon, I will nominate only one project—the British label Hyperion.  A look at the Hyperion catalogue, easily accessed over the Internet, is a bit intimidating, as it involves so many discs of fine performances of music that even most music lovers have never heard of.  The world-class virtuoso Marc-André Hamelin is well represented by performances of Henselt and Busoni and Alkan and Korngold and Marx and Scharwenka—and this is by only one particular virtuoso among so many others.
The revival of Romantic chamber music would follow along the paths we would expect, if we look past the great eclipsing and occluding figures—of Beethoven, Schubert, Mendelssohn, Schumann, and Brahms—to all the other ones.  And we are at that point when someone such as Heinrich von Herzogenberg becomes not a mere correspondent of Brahms as an exchanger of letters, but as a correspondent in another sense—as another self and as a gifted producer of appealing chamber music in his own right.  Such would be or even is the result of the Romantic Revival.  And another has been and is a different attitude and flexibility at piano recitals, at chamber-music performances, and at the orchestral hall and the opera house.  There is a new sense of space for variety and accommodation of appeal.  We sense that today, as Ivo Pogorelich goes his own way, as even Murray Perahia plays the Mephisto Waltz, and as more musicians reflect back to their audiences an enhanced sense of possibility.